Construction at FJHS will begin Jan. 13. Parking and student drop-off in the central administration parking lot will not be available. Please make plans to avoid this parking area during the construction process. #Cardstudentsareworthit #ESED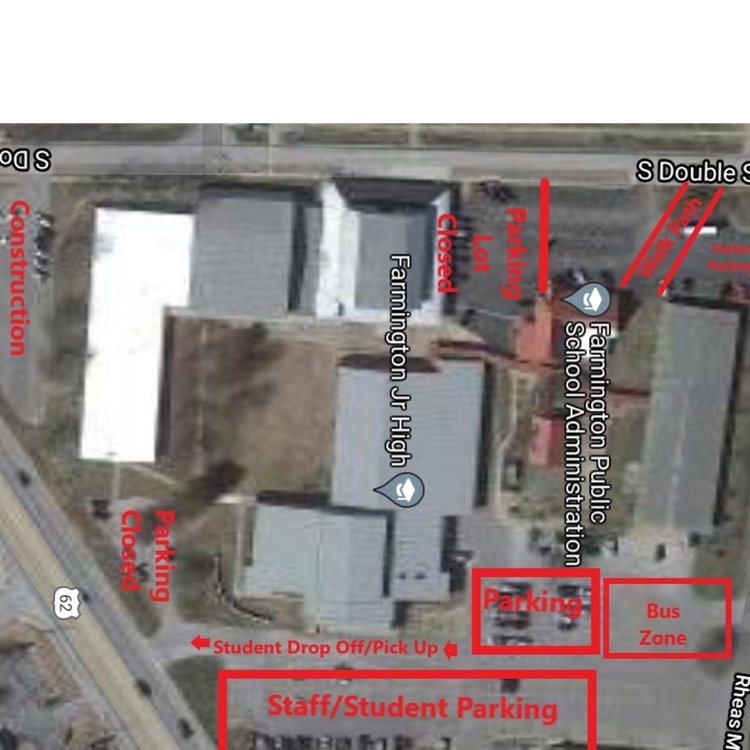 #CardinalNation- Your #1 ranked AAAA teams in the state take on Harrison tonight at home! #EveryStudentEveryDay 🏀 Cardinal Arena 🏆 1-AAAA ⏰ 5:00PM JVB/SrG/SrB 📍 12329 N Highway 170 🎟
https://spicket.events/farmington
📺 farmcardsathletics.org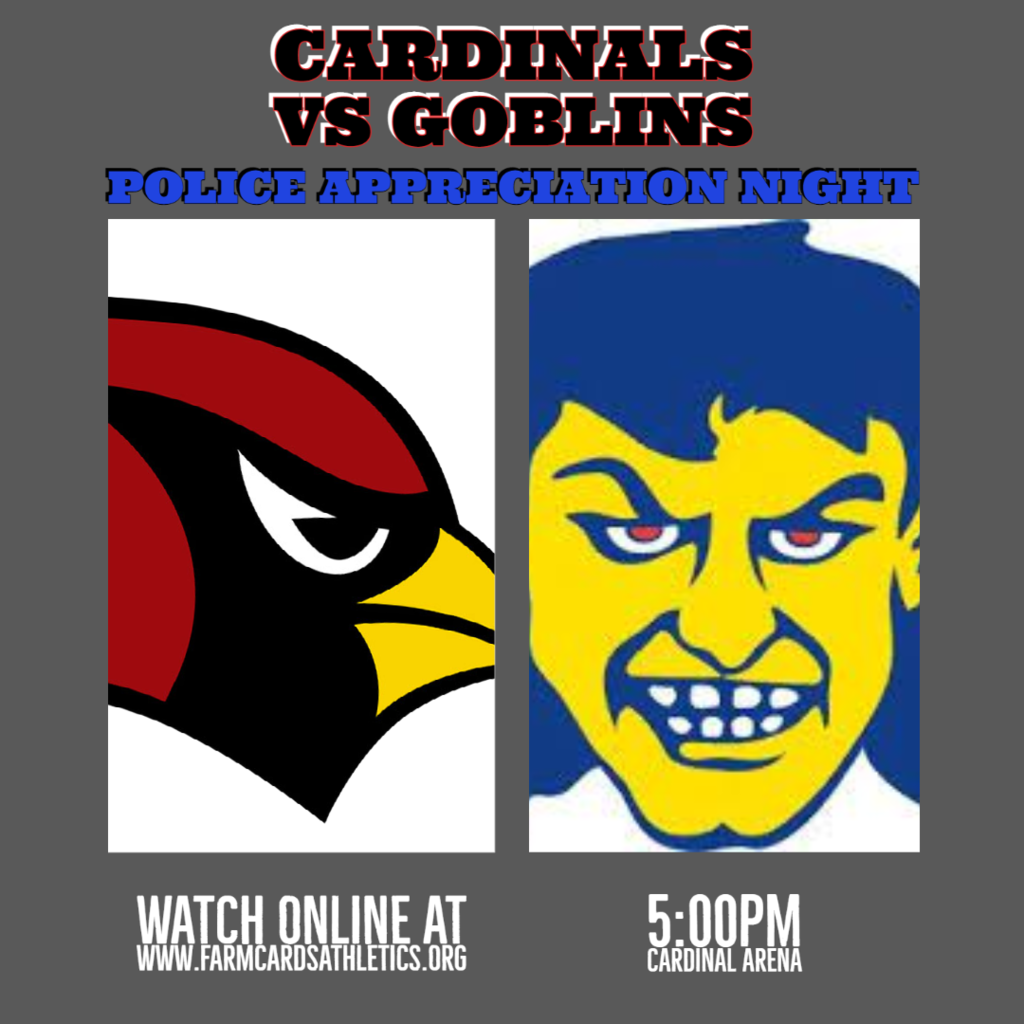 The 7th grade Lady Cardinals defeat Rogers Elmwood 34-6 tonight at Cardinal Arena! #ESED #CardinalNation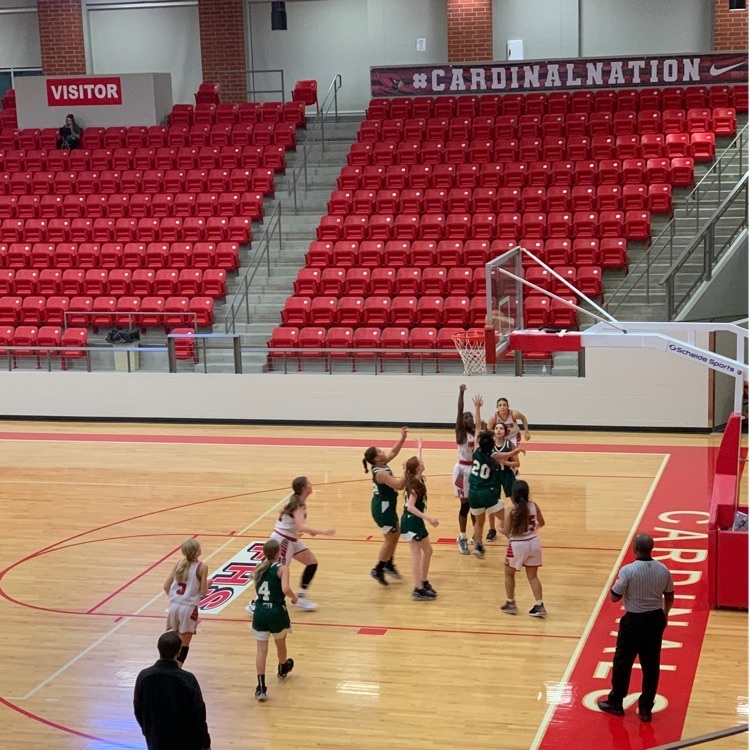 Please read the following release from the ACHI regarding the recent surge in COVID positivity rates in our community.
https://bit.ly/34tsU6F
#ESED #Cardstudentsareworthit

Current ACHI data has our area under the "Red" high risk category due to high COVID positivity rates. In accordance with our mask advisory policy, masks will be required for all students and staff while indoors beginning Friday, Jan 7th. For more info click
https://5il.co/13w7w
.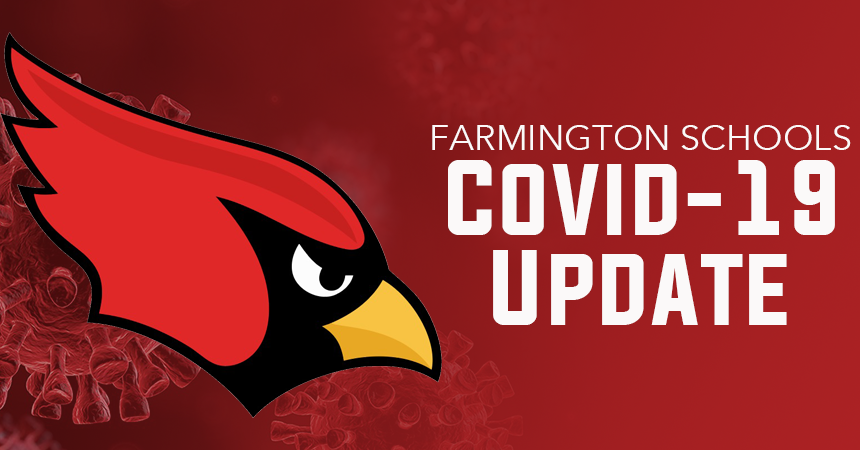 Farmington Public Schools- Daily Events- Thursday 1-6-22. #EveryStudentEveryDay #Cardstudentsareworthit
The FarmCards Live/Simple Simon's Players of the Game versus Prairie Grove on Tuesday, January 4, 2022 were Junior Jenna Lawrence and Senior Mateo Carbonel. Congratulations Jenna and Mateo and both the Lady Cardinal and Cardinal basketball teams. #ESED #CardinalNation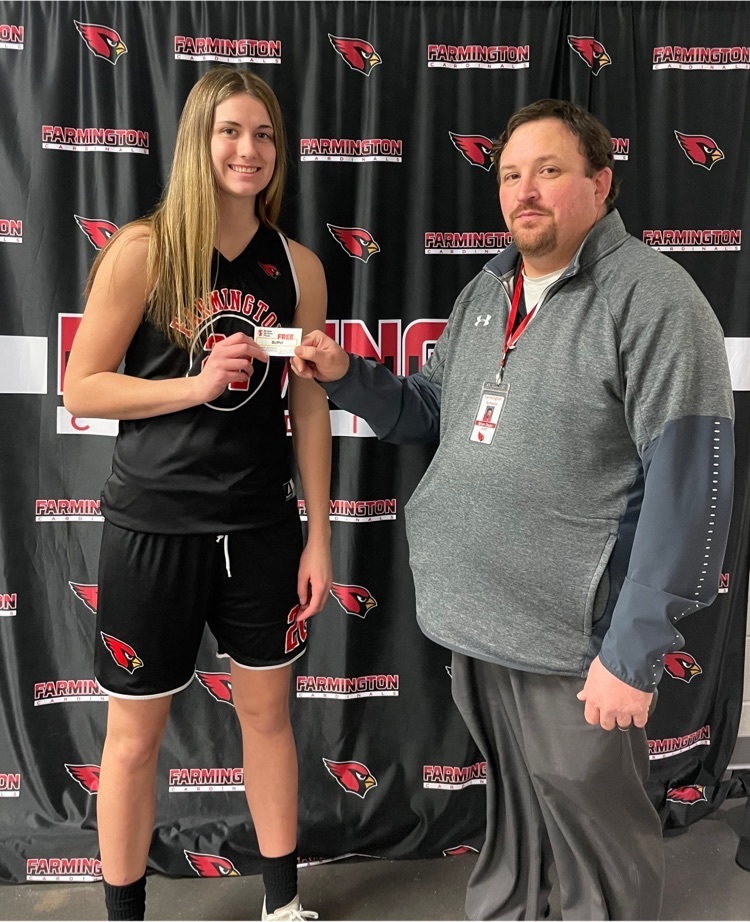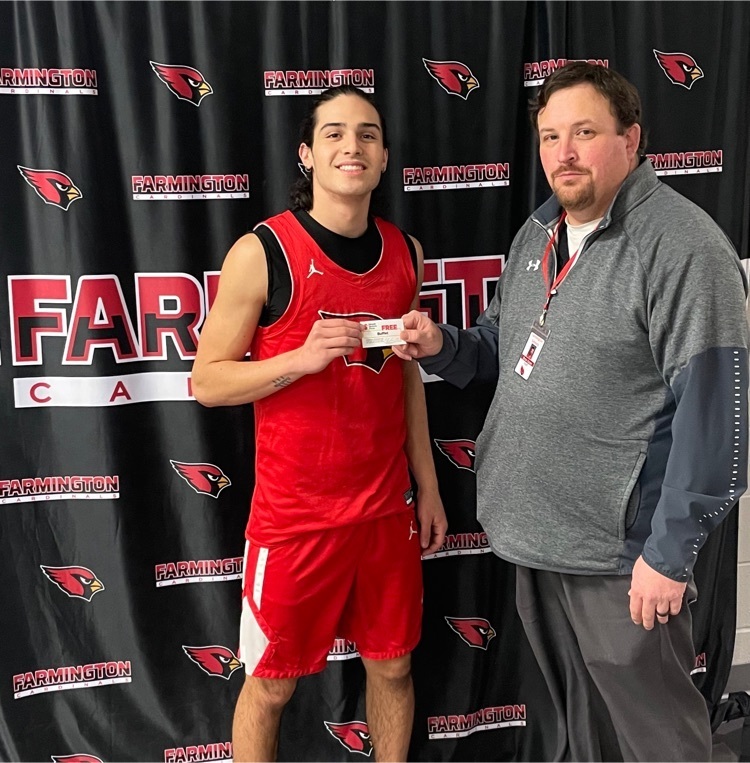 We are currently in need of substitute teachers! Substitutes make $85 per day and the pay can increase for a long-term sub! Please visit
https://www.kellyeducationalstaffing.us/
to apply! #ESED #Cardstudentsareworthit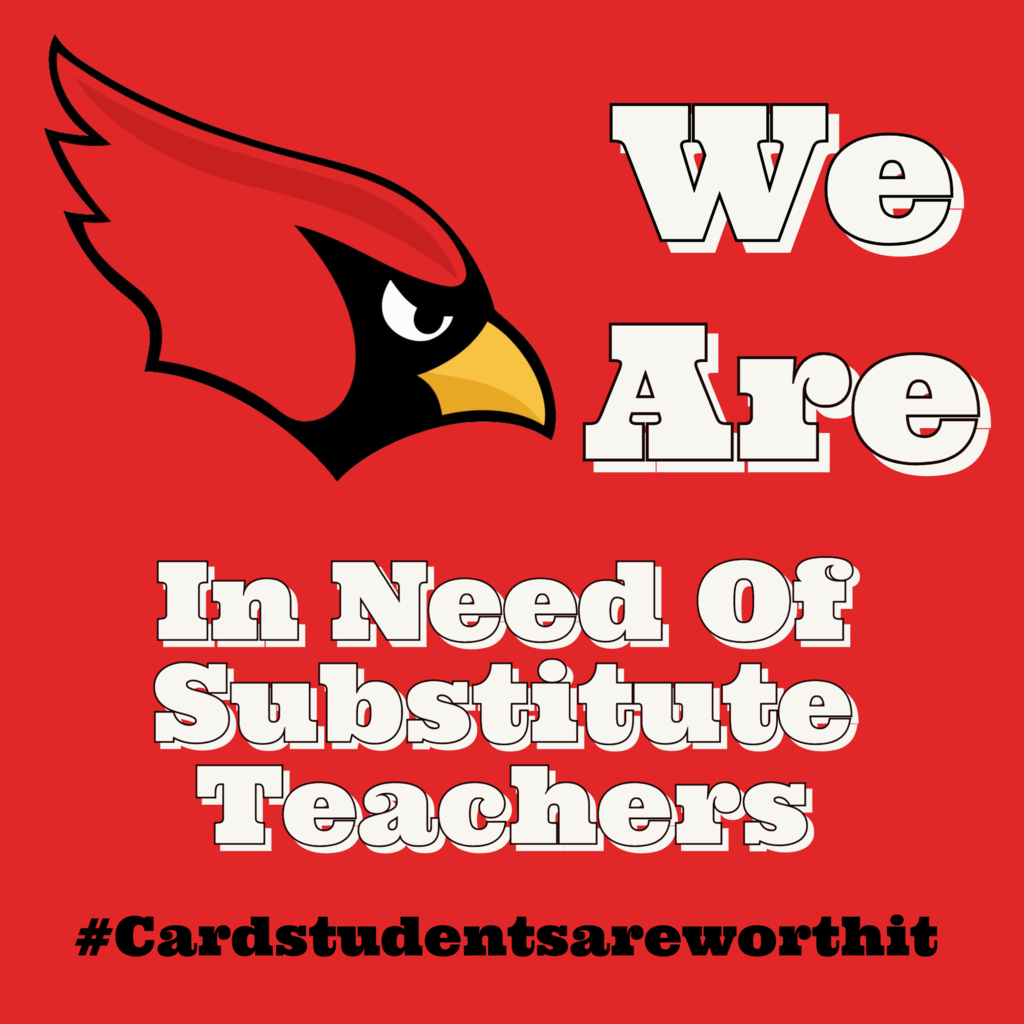 Friday night's basketball game vs Harrison at Cardinal Arena is Law Enforcement Appreciation Night! We want to honor our police officers by allowing them and their families into the game for free! Thank you so much for your service! #ESED #CardinalNation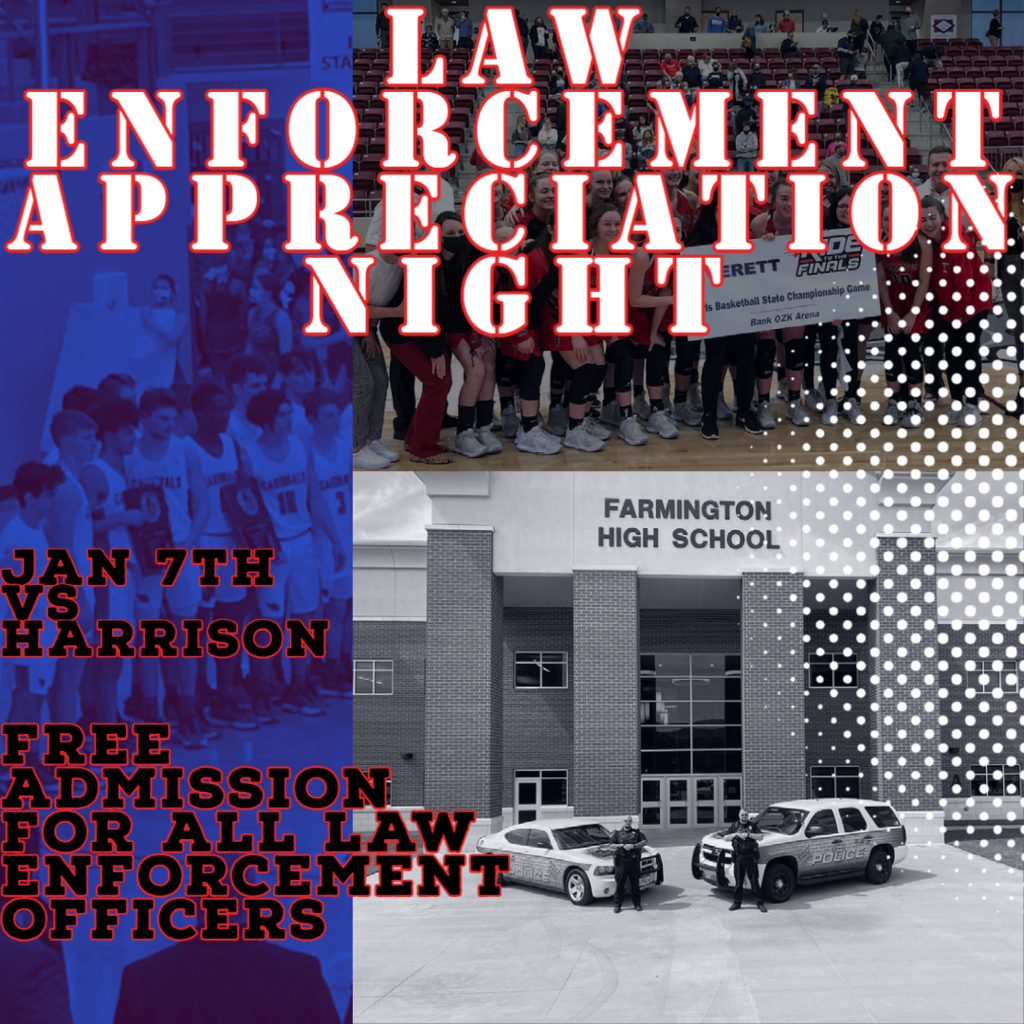 FJHS and the Arkansas Sheriff's Association are teaming up to do anti-drug and anti-vaping presentations for our 7th/8th/9th students! There will also be a parent night on Tuesday, Jan 11th from 5:30Pm-6:30PM in the FHS PAC for any who want to attend! #Cardstudentsareworthit

FSD is requiring all students and staff to fill out the online screening tool each morning before arriving on campus. The screening form can be found online at farmcards.org or on the Farmington Public Schools App. Let's all work together to keep everyone safe! #ESED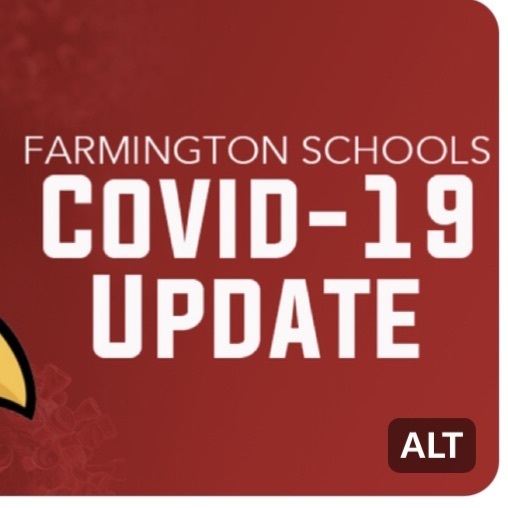 The #1 ranked AAAA boys team in the state defeats Prairie Grove tonight 56-32 on the road to improve their record to 16-1, 2-0! #ESED #CardinalNation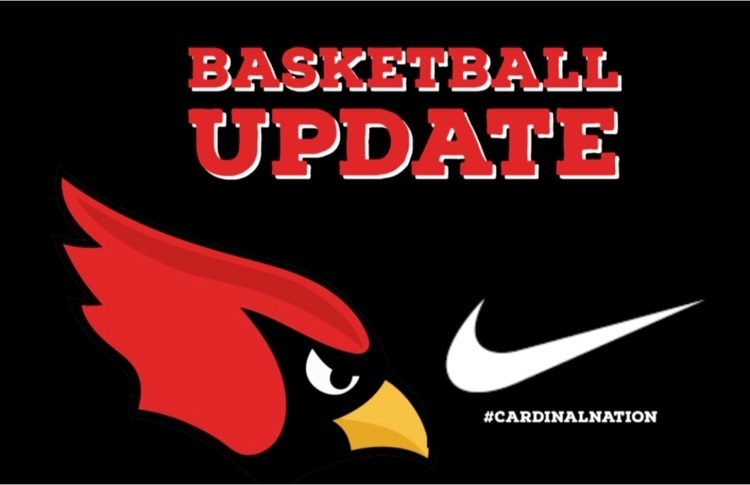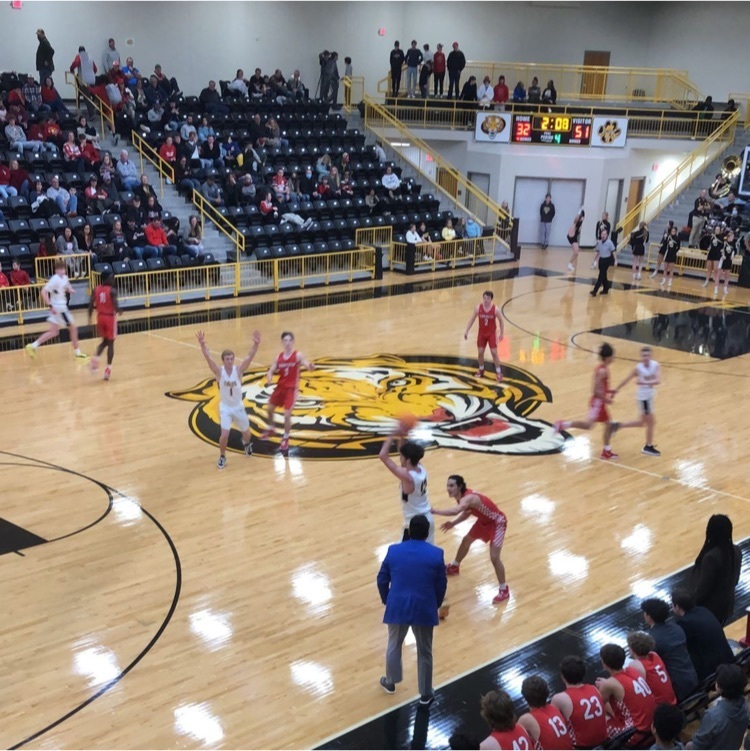 Our Lady Cardinals, the #1 ranked AAAA team in the state, improves their record to 16-1, 2-0 with a 63-49 win at Prairie Grove tonight! #ESED #CardinalNation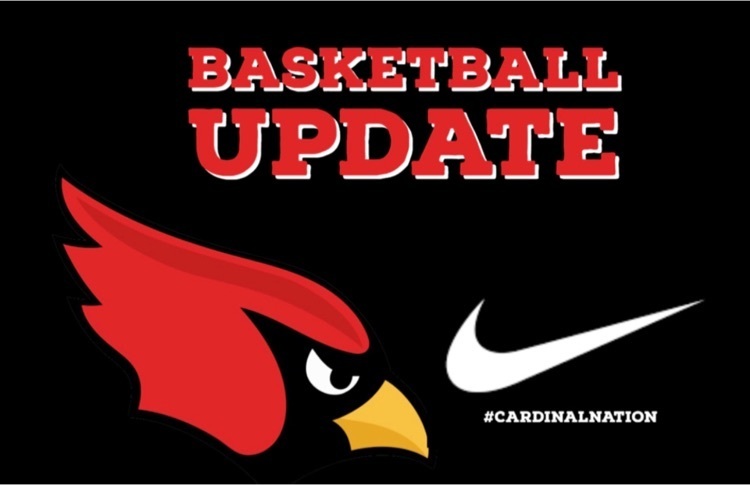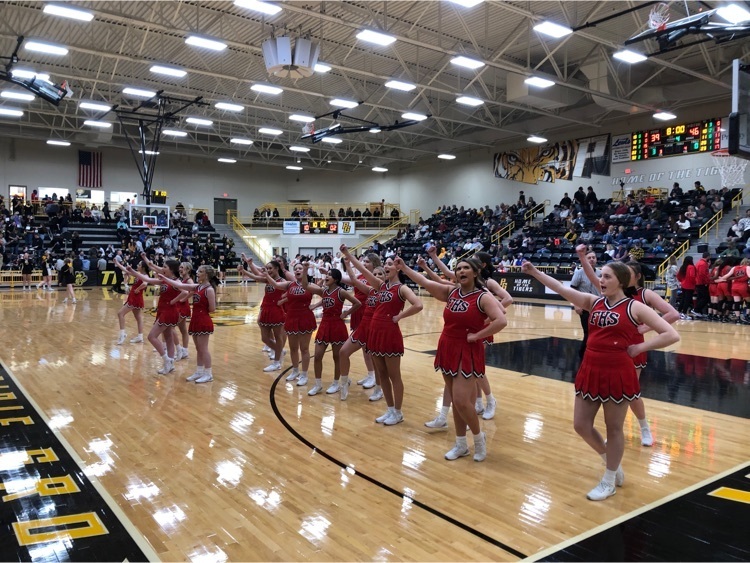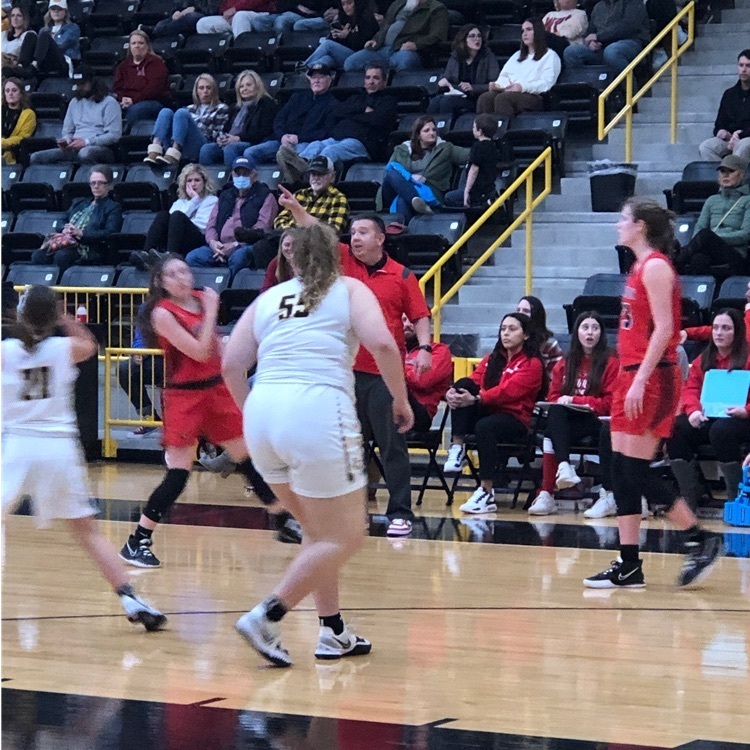 The Farmington JV Boys defeat Prairie Grove 35-26 tonight on the road! #ESED #CardinalNation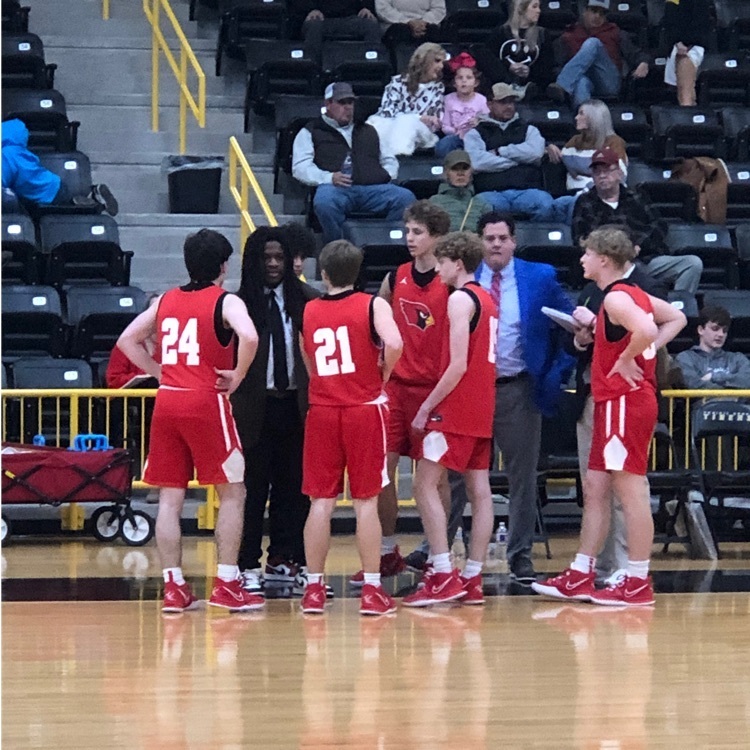 Parents please click on the following link outlining our district's Continuity of Service Plan and Mask Advisory.
https://5il.co/13rbm
As always, the safety of our staff and students is our top priority. Thank you for your continued partnership and cooperation. #ESED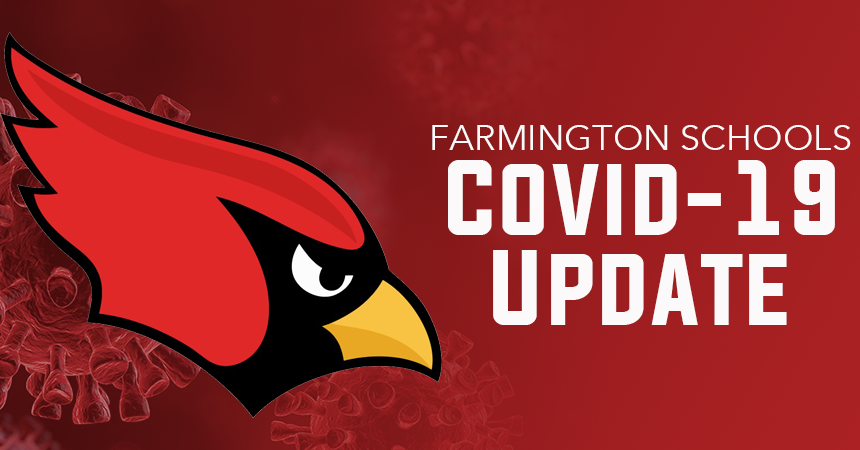 #CardinalNation- It's the Battle of 62! Your sr. girls and sr. boys travel to PG! #EveryStudentEveryDay 🏀 @Prairie Grove 🏆 1-AAAA ⏰ 5:00PM JVG/JVB/SrG/SrB 📍 500 Cole Dr 🎟 Cash at Gate 📺 farmcardsathletics.org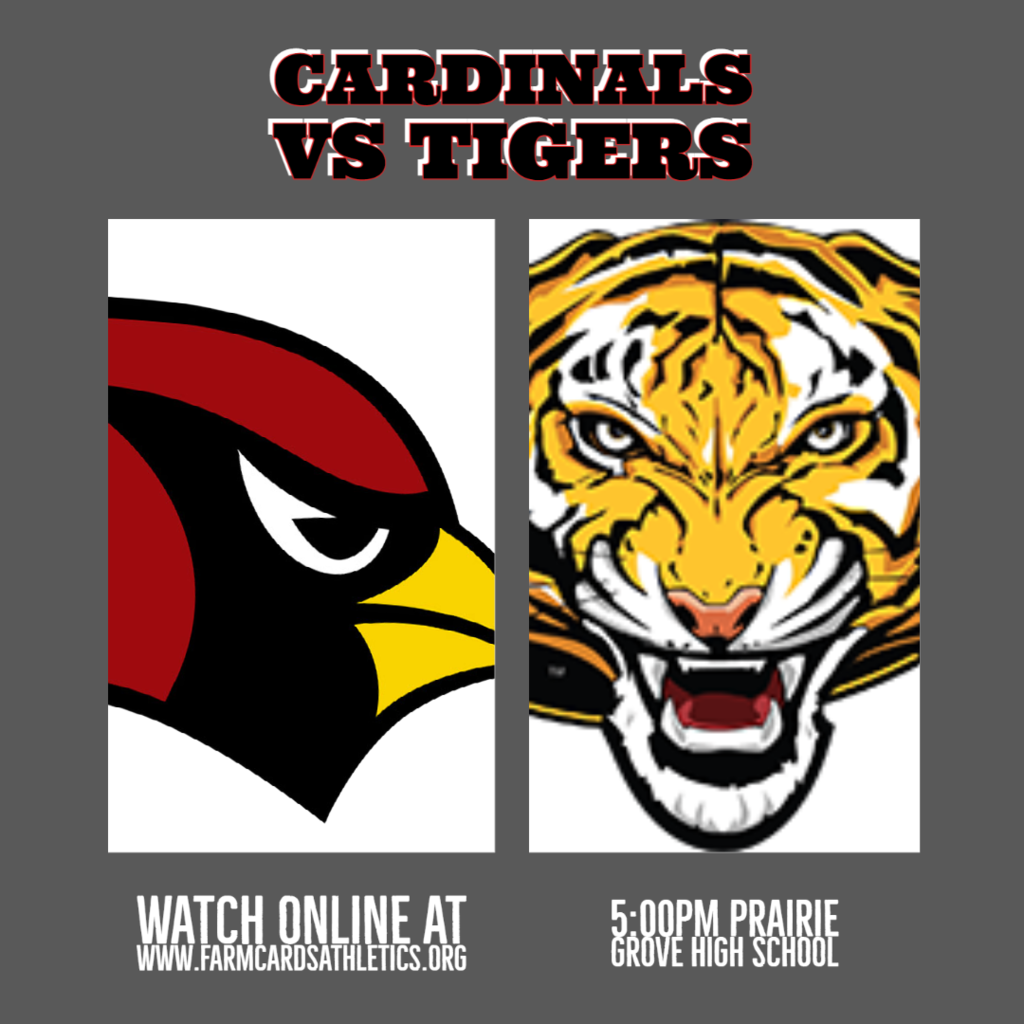 Farmington Public Schools- Daily Events- Tuesday 1-4-22. #EveryStudentEveryDay #Cardstudentsareworthit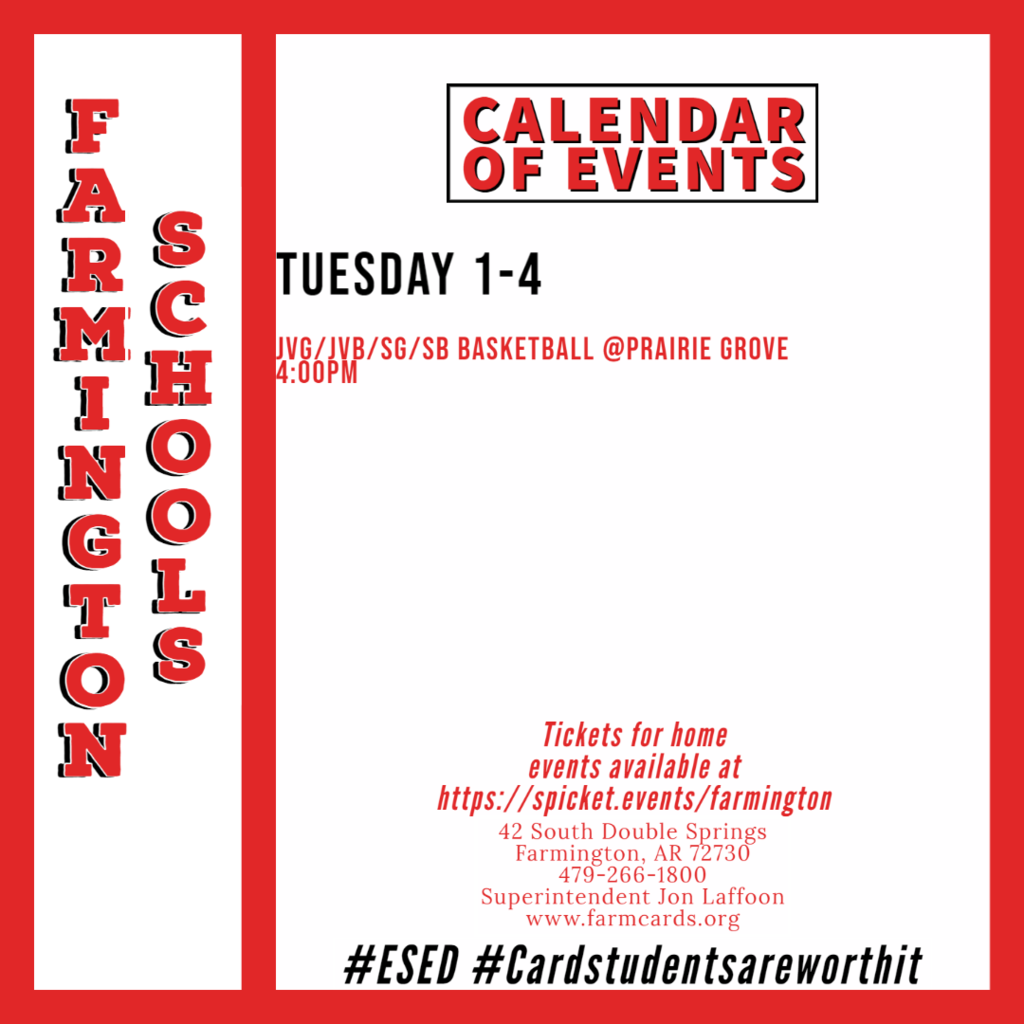 Farmington 7/8/9 boys take all three games from Prairie Grove tonight at Cardinal Arena! #ESED #CardinalNation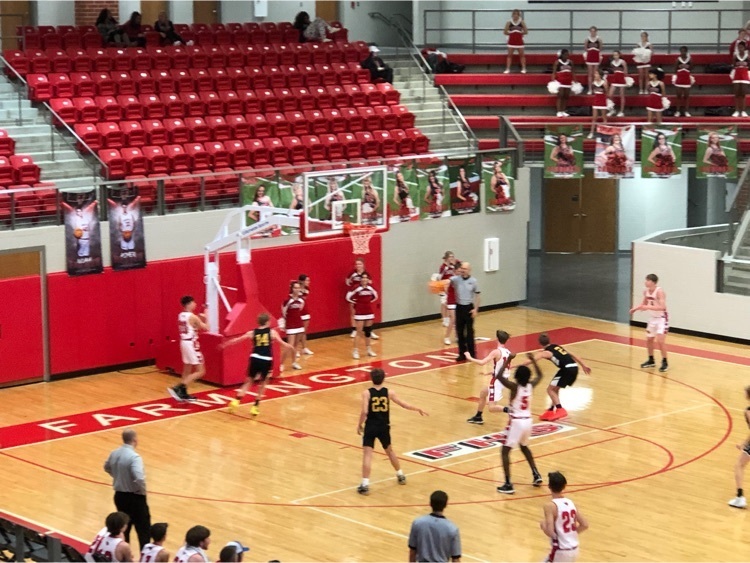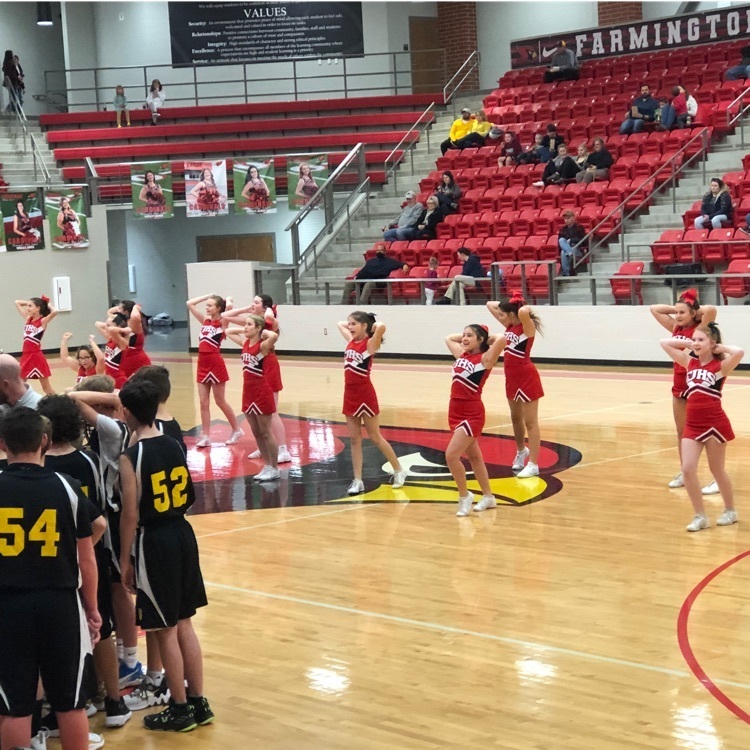 Farmington Public Schools- Daily Events- Monday 1-3-22. #EveryStudentEveryDay #Cardstudentsareworthit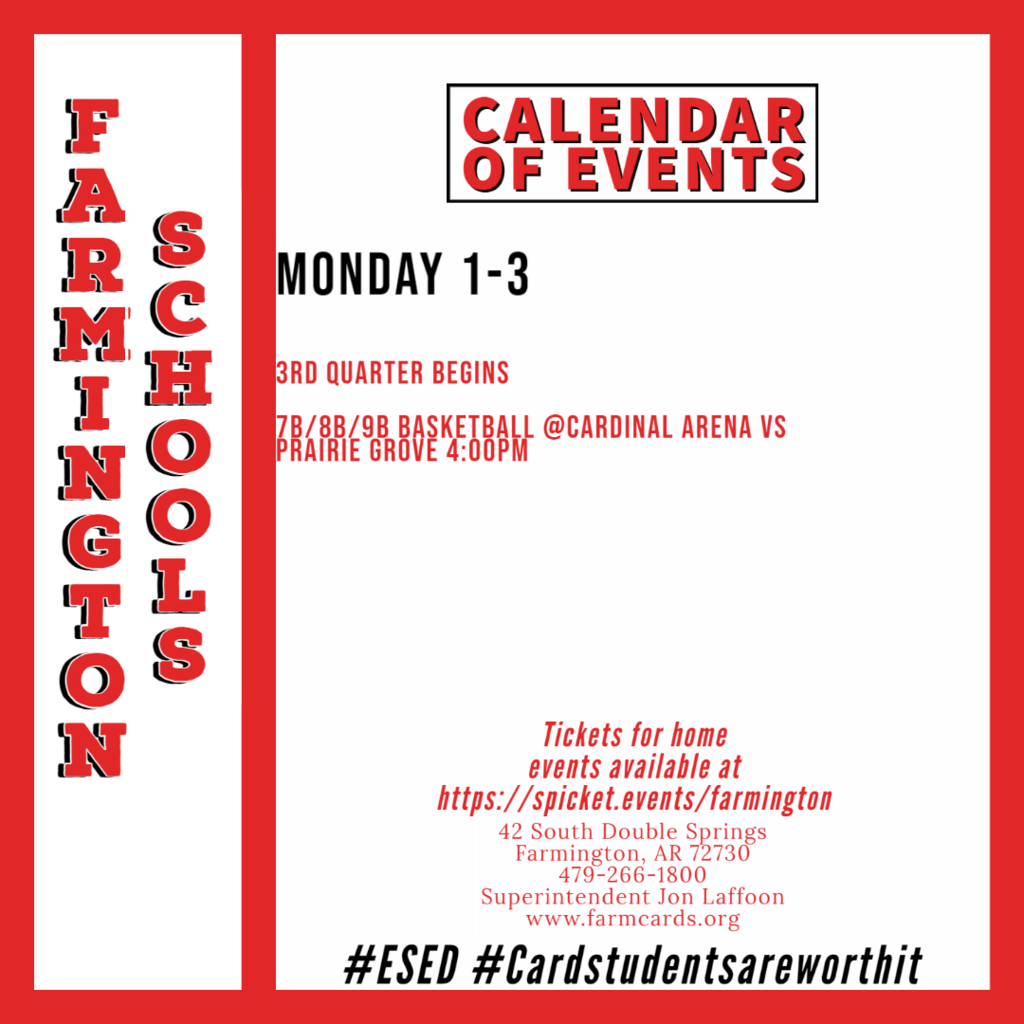 Welcome back from break! Arkansas has seen a sharp increase of positive COVID cases across the state recently. Please wash your hands, keep your distance, and stay home if you feel sick. At this time, masks are optional at Farmington Schools but recommended. #EveryStudentEveryDay